Winery LE VAI
The farm company LE VAI was founded in 1966 by Giovanni Ceradini, it owns farms in the Adige Valley and Calmasino di Bardolino. Over the years the founder is joined by his sons Eliseo, Luigi and Mario. Following the succession, Eliseo keeps the run of the vines of Calmasino.
His passion was passed down to his son Massimo who, together with his family, today lead the farm company LE VAI in the production of wine.
The winery produces wine, olive oil and grappa.
WineShop opening hours
From Monday to Saturday
8:00 - 12:30
15:00 - 18:30
Sunday
8:00-12:30
Sunday afternoon closed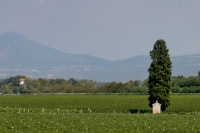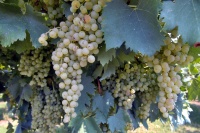 Bed and Breakfast LE VAI is nestled in the heart of the Ceradini family that produces wine for more than 80 years.
The farm is about 30 hectares and include the bed and breakfast area.
Surrounded by vineyards, olive trees and typical Mediterranean area trees, it is an enchanted place, quiet and peaceful yet close to Lake Garda. The location of the farm is an excellent starting point for tours to visit Verona, Mount Baldo (called the garden of Europe), Lake Garda and its parks... It is located in the hills of Calmasino, 2 minutes from the highway Affi-Peschiera and 5 minutes from the Brenner motorway exit Affi.
Our aim is to offer you a great memory of emotions, family feeling, hospitality and conviviality. We have carefully crafted the apartments and rooms, with quality materials, ceilings with exposed beams and a refined and accurate furniture.
Beautiful walks among the colors of the countryside and the blue of the lake.